Donor & Recipient Program
Egg & Sperm
Coastal IVF Donor / Recipient Program
The donor gamete (oocytes/sperm) and donor embryo program is managed separately to our standard IVF treatments.
This is because of specific and complicated requirements regarding supervision of donor couples and recipient couples which are mandated by NHMRC guidelines. There are also mandatory requirements for long-term management of patient information necessary to implement a donor program.
For all donors in Australia, the donation must be altruistic i.e. no fees can be paid to the donor.
However, the donor is eligible to be compensated for their "out of pocket costs".
You can either recruit your own donor (known donor) or you can use an anonymous donor through Coastal IVF.
You should contact the practice to make an appointment with Dr Paul Stokes & our nurse to discuss the donor program.
Recipient Information
When circustances require that you need to receive an egg, sperm, or embryo to achieve a successful outcome, Coastal IVF have a range of options available to make your journey a successful one.
Oocytes (Eggs)
1) Known donors – a sister, friend or relative who is prepared to undergo IVF procedures to donate eggs to a couple/patient known to her.
2) Anonymous – There are women who undergo IVF procedures (without reward) locally and in Australia in order to provide eggs for treatment of infertile couples/women.
3) Coastal IVF partners with CentraLIVF to provide donor eggs from overseas with minimal wait times and the guarantee of embryos. You can view the CentraLIVF Egg Donation information HERE, or visit their website www.centralivf.com.
If you think our Egg Donation Program is right for you, please contact the practice to arrange an appointment with Dr Paul Stokes.
Sperm
Our fertility program provides a donor gamete service for infertile couples. There are many couples who find themselves unable to conceive without donor sperm available for use. You may also recruit your own sperm donor (Friends etc). If you would like more information on receiving donor sperm, please contact the practice to arrange an appointment with Dr Paul Stokes.
Embryos
Donor Embryos have been altruistically donated by former patients who have successfully completed their family with Coastal IVF. These are usually by anonymous donation and have limited availability.
Donating
If you would like to help a couple achieve a successful pregnancy by donating, Coastal IVF can facilitate this.
Many couples are unable to have their own child because sperm or egg production is abnormal or absent altogether. Such couples would benefit from gamete (sperm or egg) donation or embryo donation (usually from another infertile couple who have completed their family after Assisted Reproduction Treatment).
Under current regulations donations cannot be financially rewarded, with the exception that reasonable travelling costs can be covered.
Donations can be anonymous or known (such as between siblings or friends). In some states there is a requirement that donor details be held on a register, to facilitate later contact between donor and child should both parties be in agreement. This is currently not required in Queensland however the situation may change with the current discussions occurring in both State and Federal parliaments.
All donors are required to undergo counselling by our infertility counsellor to ensure that the implications of their donation are fully understood.
If you are interested in becoming a donor or would like more information about donating, please contact the practice on (07) 5443 4301 or info@coastalivf.com.au.
FREE DOWNLOAD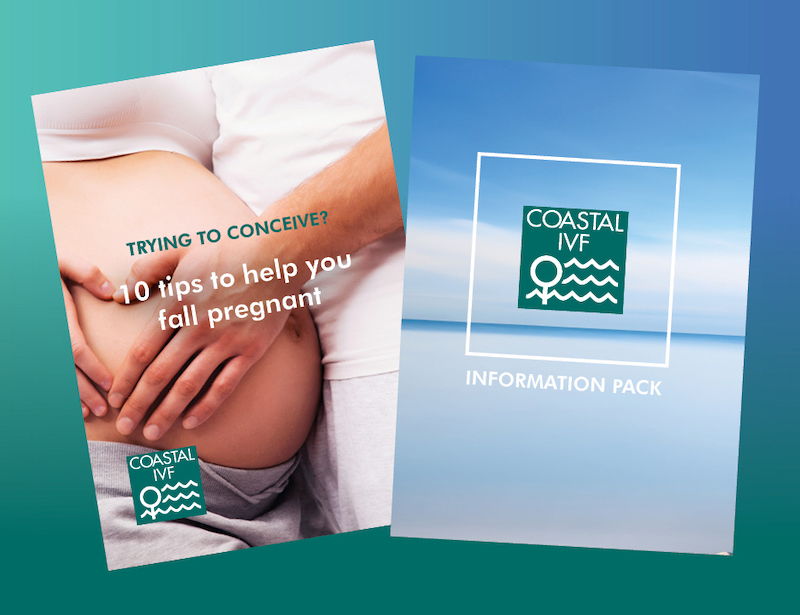 10 Tips To Help You Fall Pregnant
+ Information Pack
CONNECT WITH US!
Find Out More
Don't wait, start your journey today. Contact Coastal IVF for an appointment to discuss your future & individual options.